Welcome to GSJC
Gishrei Shalom Jewish Congregation is a small but very active Jewish congregation affiliated with URJ, Union of Reform Judaism, the Reform movement. We are a mix of older singles, empty nesters and young families.  We warmly welcome all members of the Jewish faith including interfaith and same sex families.  Now in our third decade we provide a close, family atmosphere for Jewish observance, learning and worship.
We celebrate Jewish holidays joyously and provide family workshops, Jewish education for our children and numerous social activities. Our special celebrations include Sukkot under the stars (held at a member's house) and our communal Chanukah candle-lighting and latke-fest (also held at a member's home). All of our member families take an active role in helping our congregation come alive with Jewish meaning and warmth. For more than 20 years, we have had a special relationship with the First Congregational Church on Main Street in Southington, where we hold our Shabbat services (see Shabbat services calendar) and many other events. We look forward to getting to know you!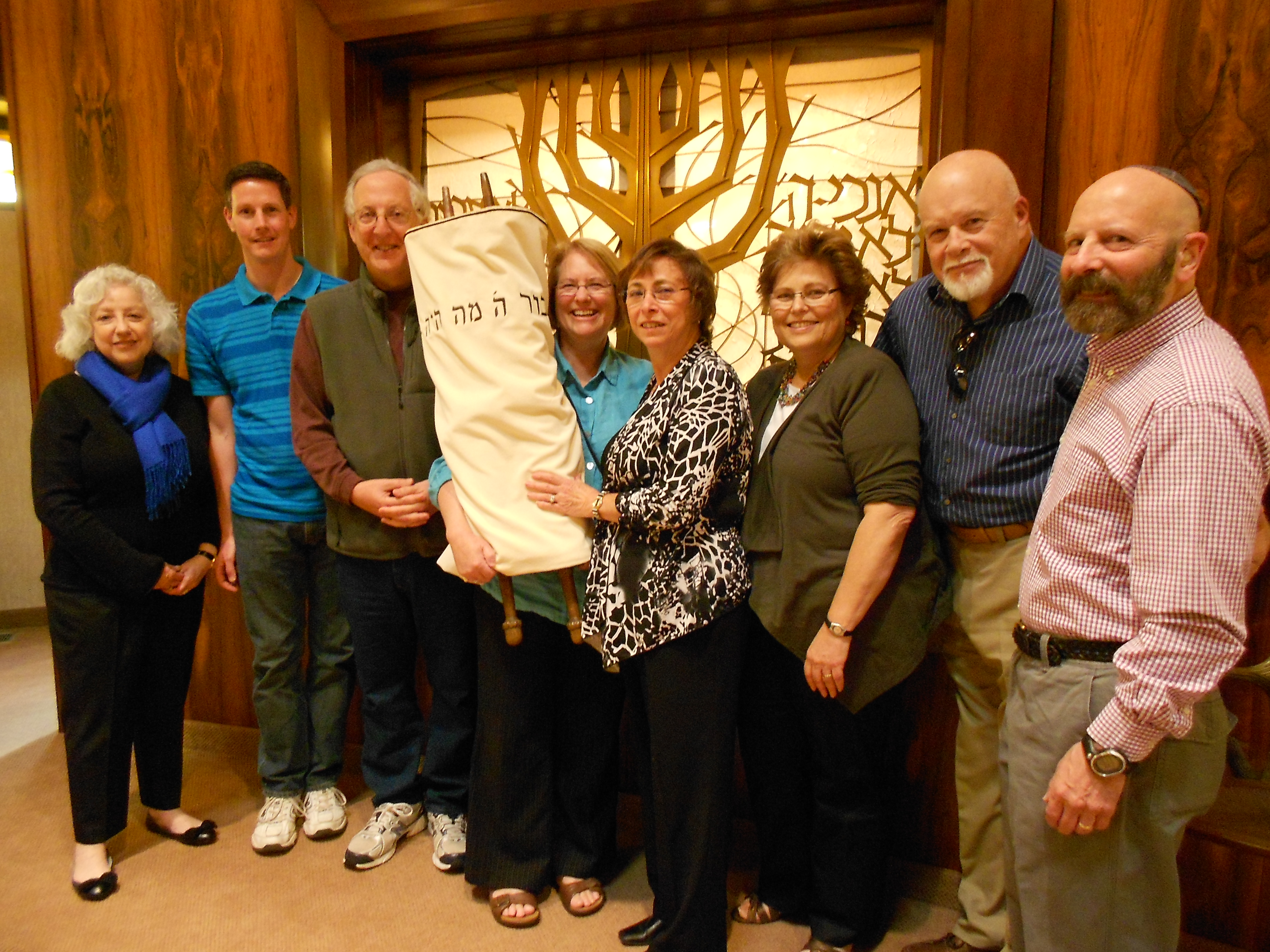 In May 2012, we acquired a Holocaust Torah. This is a "saved scroll", recovered after WWII, from a destroyed community in Europe. We have become shomrim (guardians) of this Torah and we are honored to have it in our congregation.
Our scroll comes from the Memorial Scrolls Trust, MST#888, (the repository for saved scrolls) at the Westminster Synagogue in London, England.  It was recorded by the Jewish Museum in Prague as having been collected from Caslav-Golcuv-Jenikov. For more information see "The Jewish Sights of Bohemia and Moravia" by Jiri Fiedler, published in 1991. The author notes the following: Caslav is a town in Bohemia, 70km ESE of Prague. Up to the mid-19th century only one Jewish family was allowed to reside in Caslav. When the Jews were granted civic equality under law in the mid-19th century, Jews from the neighboring villages started to move to Caslav.
Read more
Spotlight On
IMPORTANT NOTE:  If you receive an email from the Rabbi saying 'email me back' and then asking for money, do NOT respond  it is a scam.  Please let the Rabbi know if you do.  It isn't coming from her email address.  
Hanukkah is approaching. Thanks  to the streaming service Disney+, a lot of the family-friendly Hanukkah shows are now conveniently located in one place. (A Hanukkah miracle!).
https://www.kveller.com/all-the-hanukkah-episodes-to-stream-on-disney/
Please see the new section Rabbi's Corner, under Learning.  You can read the Rabbi's latest Shabbat Service sermon. 

Please see the link below to an article from Union for Reform Judaism to learn about ways we can act now for racial justice. 

GSJC Film Festival:
Stay tuned for future films  
Read about GSJC's Rededication Service for our Holocaust Torah
(Scroll down on the linked page) 

Read about GSJC's Participation in Family Promise — a Social Action Project in conjunction with FCC