GSJC offers Adult Education sessions during the year, led by the Rabbi. The following is the upcoming schedule.  All sessions are from 2:00- 4:00pm at Southington's First Congregational Church Memorial Hall and via zoom, unless noted otherwise.
On Sunday, October 29 we will learn more about what is happening in Israel, the history of the current conflict and share our feelings in a safe and supportive environment.
On Sunday, February 4 –

Reform, Conservative, and Orthodox – understanding the different movements of Judaism.
On Sunday March 10 – Jewish Death and Afterlife  – Discussion of the afterlife and Jewish rituals for death and mourning.
On Sunday, May 19 –

Judaism at home –
Learn about the traditions and rituals that are meant to be done in the home.
On Sunday June 23 – Food Schmooze, Greek Restaurant TBD,
11:30

–
We will visit a Greek restaurant to eat and learn about the country's Jewish community of Salonika.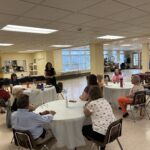 For more information and the Zoom link, please email Rabbi Alana Wasserman at rabbi@gsjc.org.